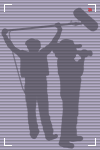 "The Stories of Jim Harrison"
Genre

Biography, Nature, Arts, Cultural History, and Environment

Synopsis

An examination of the life and art of Jim Harrison, the famed American author, poet and screenwriter whose unapologetic appetite for life garnered almost as much attention as his extraordinary literary output.

Stage

in development
Prod. Co.

Blind Sucker Films

Years of Production

Two

Locations

Montana, Michigan, New York so far. California, Florida are next, along with hopefully Paris.

Prod. Partners

Former Co.
Browse documentary films on The D-Word