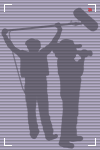 Morphing Gravity
We have yearned to fly since we began to dream. A chronicle of the creation of an aerial ballet.
Synopsis

MORPHING GRAVITY is a feature-length dance documentary. The film continues in the vein of Wim Wenders' PINA in breaking new ground in both storytelling and the movement and process being described:

We have yearned to fly since we began to dream. Leaving the earth and the terrestrial pull of gravity has been central to human hopes and longing since consciousness began. Lisa Giobbi – a dancer, aerialist and choreographer – has wedded her art with these dreams. MORPHING GRAVITY chronicles her journey and the creation of her aerial ballet, Fight or Flight.

Aerial movement is substantially different from traditional dance: at first glance, much of the movement feels "normal" to the eye. However, a small jump where the body does not move in space, an impossibly light lift or a lean which tips the dancer at an angle seemingly beyond possibility: the laws of physics are challenged and provoked, subtly altering our perception and comprehension.

Stage

in post-production

Running time

75 and 52 minutes
Prod. Co.

AntiMatter Films

Country

United States

Years of Production

2012 to Present

Locations

New York, Las Vegas, the world...
Browse documentary films on The D-Word