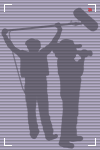 Marry Me: Stories from the San Francisco Weddings
The personal stories behind the gay marriage revolution in San Francisco in 2004.
Genre

Minorities, Human Rights, Contemporary Issues, Portrait, and Social Issues

Synopsis

In 2004, the city of San Francisco legalized gay marriage starting a flood of same sex couples converging on downtown City Hall. Marry Me tells the stories of 4 of these couples who married in their own words as to why they chose marriage, how they felt and what their personal experience was during this historic event.

Stage

finished

Running time

58 minutes
Eli Brown ... Director/Editor/Cinematographer
Prod. Co.

Santa Fe Productions

Country

United States

Years of Production

2004

Locations

San Francisco, Long Beach, California.
Release year

2004

Festivals

Seattle Gay & Lesbian Film Festival, Tiburon International Film Festival, OUTTAKES, HDFest, Philadelphia Gay & Lesbian Film Festival, Detroit Docs, Rhode Island International Film Festival

Distribution

Santa Fe Productions

Language

English

Subtitles

Yes
Browse documentary films on The D-Word