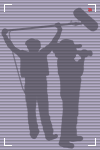 Release From Reason
A man devotes his life to art, at all costs, and fuels an American art movement.
Genre

Arts, Cultural History, Culture, Personal Doc, and Biography

Synopsis

Arthur Polonsky has been called a highly influential painter, teacher, an eccentric genius and one of the most important Boston Expressionist painters of the 20th century. His work has been called mystical, visionary, and haunting. An immigrant Tailors' son form Lynn, MA., Arthur's immense talent led him to the booming art scene of WWll Paris, international acclaim, shows with Picasso and Pollock, to relative obscurity and resurgence in his 80's with major exhibitions. His filmmaker son Gabriel returns to his now ramshackle childhood house to film his father, now living alone in his late-80's, painting day and night amid relics of a stellar art career and by-gone family of counterculture artists. Release from Reason follows a son's journey to finally understand his father's life devoted to art at all costs, his mad genius, and the mysterious forces of creativity.

Stage

in post-production
Prod. Co.

GP Studio Arts

Country

United States

Years of Production

11

Locations

Greater Boston

Prod. Partners

Eric Grunebaum, Executive Producer. Christo Tsairas, Editor.
Browse documentary films on The D-Word