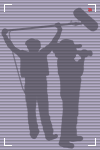 The University of Nuclear Bombs
Should universities be involved in making weapons of mass destruction?
Genre

Docutainment and Politics

Synopsis

Since its inception during the Manhattan Project in WWII, the University of California has managed the nation's nuclear weapons labs at Los Alamos and Livermore. The University of Nuclear Bombs examines the sinister relationship of American's top public university and the nuclear weapons complex and the group of activists who are determined to make the university sever its ties with it.

Stage

finished

Running time

82 minutes
Prod. Co.

Walls That Speak Films

Country

United States

Years of Production

2010

Locations

Los Alamos, Livermore, Berkeley, Santa Barbara, Los Angeles, Alburquerque, Santa Fe, San Fransciso, Boston.
Release year

2010

Festivals

Santa Barbara Film Festival

Broadcast (Acq.)

Russia, Poland, Portugal, Turkey, Spain.

Language

English
Browse documentary films on The D-Word