Sean Flynn

(Professional)
Films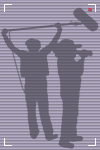 Sean Flynn: Director of Photography
Difficult journeys of two American Jewish families,each with members who are or have been in prison.
Sean Flynn: Producer, Addtional Camera
Sean Flynn: Cinematographer, Associate Producer
Bio
Public Bio
Sean Flynn is a documentary producer, director and programmer. He is the Director of the Points North Documentary Forum, a two-day conference program at the Camden International Film Festival featuring panels, workshops, master classes, networking events and a public pitch session. Past participants include representatives from HBO, BBC, A&E, ITVS, PBS, POV, Tribeca Film Institute, Sundance Institute, Sundance Channel, LEF Foundation, Cinereach, Chicken and Egg, BAVC, IFP and Participant Media.
During eight years at the Boston-based production company Principle Pictures, Sean helped raise nearly $500,000 for a variety of film projects through grant writing and public pitching forums like Hot Docs and IFP Independent Film Week. As a producer and cinematographer, he has worked in 16 countries, including conflict zones like Iraq, Afghanistan, Burma and the West Bank.
Sean was an Associate Producer and Co-Director of Photography on the award-winning BEYOND BELIEF, which premiered at the 2007 Tribeca Film Festival and aired on the Sundance Channel. He was a Producer on the ITVS-funded feature THE LIST, which premiered at the 2012 Tribeca Film Festival. Sean directed and co-edited DIVIDING LINES, a short documentary about the lives of Israeli and Palestinian journalists.
Along with colleagues Ben Fowlie and Sara Archambault, Sean co-founded of the popular DocYard screening series in Cambridge, MA.
In 2012, Sean spent five months in Mumbai, India as a Fulbright Senior Research Fellow working on a film and interactive media project.