Douglas Blush

(Professional)
Films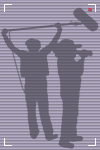 Douglas Blush: Director
Take your best day...and your darkest moment...and multiply by a million.
Bio
Public Bio
Doug Blush has worked in documentary filmmaking for over fifteen years, as a director, editor, producer and DP. His previous editorial work includes WORDPLAY, IOUSA, DUMBSTRUCK, BEER WARS, OUTRAGE, and FREAKONOMICS, and more recently, he edited and co-wrote THESE AMAZING SHADOWS on Independent Lens and edited and executive produced SUPERHEROES on HBO. THE INVISIBLE WAR, which he edited and associate produced, won the Audience Award for Best Documentary at Sundance 2012. His new documentary OF TWO MINDS, which he co-directed, edited and shot, will premiere in 2012.
Doug is co-owner of MadPix, Inc, a production and post production company based in Los Angeles, with his wife Lisa.