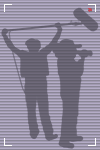 When I Last Saw Jesse
No One Could Figure Out What Happened To Him...
Genre

Investigation and Docu-Drama

Synopsis

The weekend before Thanksgiving in 2006, Jesse Ross traveled to Chicago with his classmates to attend a conference being held there. Early on the morning of the last day of the conference, he attended a meeting scheduled to last all night. However, he only stayed for thirty minutes before he was observed getting up, and walking out the door.

He has not been seen or heard from since.

This film is the story of that night in Chicago.

Stage

in post-production

Running time

87 and 82 minutes
Brian Rose ... Director, DOP, co-Editor, Writer
Sarah Lipstate ... Composer
Keith Johnson ... editorial consultant
Jeff Van Bockern ... Online Editor & Color Grader
Prod. Co.

CineCraft Films, LLC

Country

United States

Years of Production

2013-2017

Locations

Kansas City, Missouri; Raytown, Missouri, Harrisonville, Missouri, Overland Park, Kansas; Chicago, Illinois.
Release year

2018

Language

English
Browse documentary films on The D-Word